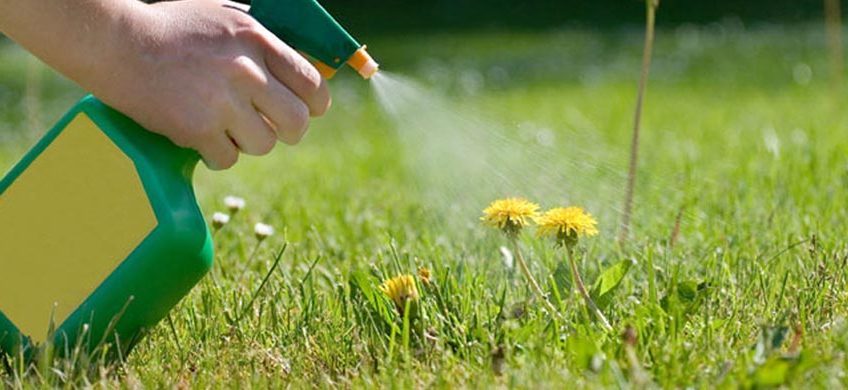 Weed control options
By far the most asked question is "how do you control weed growth?" The organic answer is to create an equal balance of structural, chemical, and biological activity in the soil; without biological activity unhealthy soils and weeds are sure to exist. Biology (micro-organisms) is the foundation to healthy soils. Weeds are an indicator that the soils are out of balance. My primary goal, with all of our applications, is to create the balance that nature needs to thrive on its own which results in healthy soils and a naturally reduced weed population.
The conventional approach to controlling weeds is to use herbicides, fungicides, and pesticides –all which can have a harmful effect on beneficial micro-organisms (the same organisms that help create a sustainable, healthy soil) which is why chemical treatments are not sustainable. However, they are effective at eliminating weeds in a timely manner.
Soil/herbicide study
As you may already know, I have been conducting a study to explore the effects of herbicides on soil micro-organisms at our shop in Oshkosh. The purpose of the study was to help me better understand the relationship between herbicide treatments and the decline of micro-organism activity. My goal was not to condemn or credit herbicides but rather to provide a more insightful opinion to those clients who prefer a quick fix to weed issues. I truly believe there is balance in everything so why not find out what the "balance" is between herbicide use and micro-organism decline? First, I'll give you a little background on the study, then the informal results. This was not an official study and was done for my personal use only.
Background
For the past two years I have used Stuart's Landscaping Company to apply different applications of herbicides (each for a specific purpose) on three test plots at my shop, (chemical based landscapers typically recommend three or more herbicide applications per year). One test plot received one herbicide application, one test plot received two herbicide applications, one test plot received three applications, and one test plot was used as the control group. Throughout the growing season, I reviewed soil samples from all test plots using a high powered microscope located in my "shop lab". What I looked for in the soil slides was activity involving live, active micro organisms throughout the slide. I was not looking for specific types or sizes of organisms.
Results
Test plot 1 – one application of herbicide (spring)
Obvious reduction in weed growth compared to test plot 4 (control plot), however still showing signs of weed activity. At or near the 5% goal of weed activity established by organic land care professionals. No significant degradation of micro organism activity. Weed activity occurred later in the season.
Test plot 2 – two applications of herbicide (spring and fall)
Significant reduction in weed growth compared to test plot 4 (control plot). 5% or less or weed activity. Showing signs of a reduction in micro organism activity.
Test plot 3 – three applications of herbicide (spring, mid spring, fall)
Less than 1% weed growth. Significant reduction in micro-organism activity
Test plot 4 –Control plot. No applications (organic or chemical)
Recommendation
Control weeds organically by building healthy soils and safe sustainable grasses
Spot treat with natural, iron based selective weed control products (contact us for more info)
Controlled, responsible use of herbicides
Achieving a 5% or less weed growth activity in your lawn is absolutely achievable using organic and cultural land care practices as I have personally demonstrated on a number of yards, including my own; however, if you are eager to rid your lawn of weeds right away and with less effort on your part, I would recommend spot treatment using a natural iron based treatment, or 1 or possibly 2 herbicide applications (in a year), depending on the severity of your weed issues. If your weed problem is severe enough, the organic land care community would consider that in need of a "rescue" and may require a more drastic one time approach. (I rarely encounter a yard that is in that dire condition.). Consistently using more than two treatments of herbicides and/or synthetic fertilizers throughout the year is clearly counterproductive to a safe, sustainable, organic process, and would be creating a "one step forward, two steps back approach" which would not be recommended.
Bottom line
If you're eager to rid your lawn of weeds, take a responsible approach when using herbicides and use as few applications as possible (in most cases no more than 2 applications a year). Also, add organic, biological applications throughout the growing season; this will help replenish the micro-organism population.
I will continue to recommend herbicide treatments based on my clients' needs and expectations. However, Backyard Organics will not apply herbicide treatments. We will coordinate all of the necessary efforts (scheduling and invoicing), however, will refer the work to Stuart's Landscaping Company. Stuart's is a professional company which is respectful of our clients' overall land care needs and keeps me informed as to the timing of each application. I have attached Stuart's description of their herbicide treatments for your review.
If you're interested in a safe, healthy and sustainable environment, stay the course and continue with a purely organic approach, eventually your weed growth will decline to 5% or less!
To read more about our products and services, or if you would like to submit a question, please visit us at www.backyardorganics.net, email info@backyardorganics.net or call 920.730.3253/888.200.0446.