Client Testimonials
"I luv u guys"
- Greta J.
"Before you took over caring for our lawn it was really patchy with spots that didn't even have any grass, just dirt. The other company could hardly even get the grass to grow! You started working on our lawn this spring and already it looks lush and thick. Wow, what a difference! We love our lawn now and we know it's safe for our grandchildren to play on."
- Lorraine & Andrew P.
"The grass came in nice a green and, now that the dandelions are mostly gone, the lawn looks the best it has in years."
- Sean
"We moved into our home six years ago and struggled with our lawn on a consistent basis. We tried fertilizing it ourself, brought in new soil and reseeded, and also had a local lawn care company service our yard for a few years. Nothing seemed to help, in fact, each year the turf got worse and worse. Our front lawn was thinning out to more mud and weeds than grass. We have mature trees and a very shaded front yard, so after consultation with a few other lawn companies, it was suggested we cut down the trees, which we didn't want to do. Then we did a websearch for an organic lawn care company and found your company's information. It sounded like what we were looking for, a company that would improve the quality of our turf while protecting the health of our children and our dog. After one season of service from Backyard Organics, we actually have grass in our front yard! We cannot believe the difference we have seen in only a few short months of time. In the past, our front lawn rarely needed to be cut, and now it is growing constantly. We feel that all of our concerns have been addressed in a quick and professional manner. We could not be happier with the improvement we have seen in our lawn!"
- Jason and Jamie
"As you know, we applied the ML2 [Mycrotabs] tablets and repellent spray to over 40,000 native plants that we installed at the Grizzly Creek Rest Area in Glenwood Canyon, Colorado for the Colorado Department of Transportation. These products were used to enhance survival and discourage the numerous deer in the canyon from feeding on our plants which were indigenous to the canyon and therefore prime forage for the deer. The work was completed last fall and we have not seen any damage to our plants as they came out of dormancy and are filling out quite successfully. Under similiar conditions I would definitely use your products again!"
- Randall & Blake Inc., Littleton, Colorado
"Maggie our collie, wants to thank you for a very healthy lawn, and I second it. Also each new customer will improve our environment."
- Helen D.
"I cannot believe how much thicker my grass is and am enjoying the "barefoot" experience"
- Betsy P.
"Thank you for providing an organic alternative for our lawn care and ultimately for the care of our family and pets that use the lawn. I so appreciate your company in our own 'back yard'. We have used organic lawn products for over eight years but have had to mail order all the supplies. Since you have examined our lawn I am able to have tailor made care with just a local phone call."
- Alicia G.
"This will be our third year with Backyard Organics. We have noticed a very marked improvement in our lawn since we started with Backyard Organics in 2007. We strongly believe that the improvement is due to the 'resourced' approach that Backyard takes to lawns. They are giving our lawn what it needs, rather than just dumping fertilizer on it. We also like the fact that our lawn is getting what it needs with products that are 'green' and safe for our environment"
- Lou B.
"I can breathe easily knowing that my children can safely play on our lawn without being exposed to harmful chemicals which can negatively affect their immediate as well as future lives. Being able to control their immediate environment is a huge relief!"
- Tatyana D.
Latest Article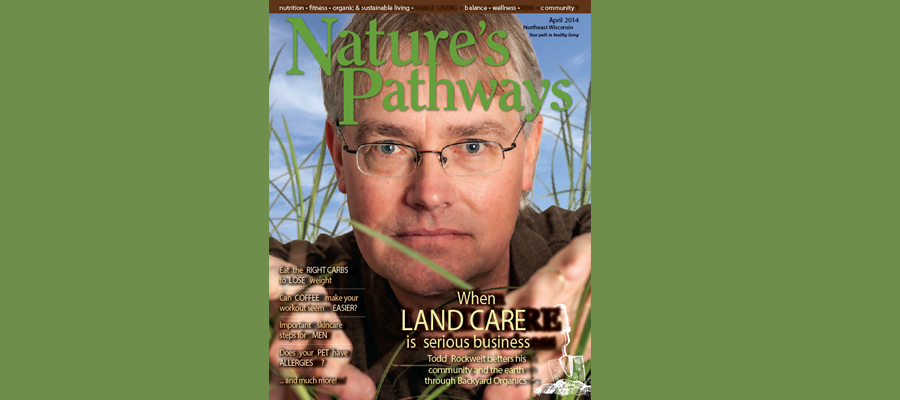 Nature's Pathways Cover Article - April 2014
Building a purposeful life from the ground up Todd Rockweit betters his community and the earth through Backyard Organics In all things of nature there is something of the marvelous. —Aristotle As they shine between the leaves of a nearby maple tree, the sun's rays gently warm your skin.
The smell of flowering lilacs drifts upon a light breeze. Soft, plush grass cradles your bare feet as you close your eyes and listen to the birds singing from the nearby shrubs a…Read More
Welcome
In 2004, Backyard Organics was born out of one couple's desire to have a safer, healthier lawn for their family and pets. We have since grown to have a better understanding of the complexities of natural ecology and soil biology and how that relates to a healthy lifestyle. We are dedicated to providing you and your family a beautiful lawn using all natural, organic products that are proven safe and effective.
Backyard Organics was the first all organic lawn care service in Northeast Wisconsin and we are your exclusive source for a variety of all natural, organic products. We are also the first Wisconsin Organic Land Care business accredited by NOFA, one of two organizations in the country that accredit Organic Land Care Professionals (AOLCPs).
We are committed to understanding the science behind soil biology and matching that with the needs of our client. If you're tired of waiting to enjoy your backyard, why not make the decision to go chemical-free today!