Client Testimonials
"I luv u guys"
- Greta J.
"Thanks for the great service in 2012. I've been very pleased with the outcome of using the organic process."
- Barbara H.
"I can breathe easily knowing that my children can safely play on our lawn without being exposed to harmful chemicals which can negatively affect their immediate as well as future lives. Being able to control their immediate environment is a huge relief!"
- Tatyana D.
"Thank you for providing an organic alternative for our lawn care and ultimately for the care of our family and pets that use the lawn. I so appreciate your company in our own 'back yard'. We have used organic lawn products for over eight years but have had to mail order all the supplies. Since you have examined our lawn I am able to have tailor made care with just a local phone call."
- Alicia G.
"I purchased two of your products at the Appleton Farmers Market and am thrilled with the results."
- Celia. Z
"As this year's growing season rapidly approaches, I am excited to see the continued improvement in soil health after another season of Backyard Organics on my home garden. I have used Backyard Organics for 2 seasons and have noticed a reduction in pest problems and disease, and an overall improvement in plant vitality. Last year I had almost zero incidence of tomato blight; while prior to Backyard O., my tomato plants would be stripped bare from blight by early September every year. I highly recommend this service for both lawns and gardens/orchards, and I appreciate the knowledge and passion that Todd, the owner, puts into his work. Happy growing everybody!"
- Jason Lipsky
"The grass came in nice a green and, now that the dandelions are mostly gone, the lawn looks the best it has in years."
- Sean
"Before you took over caring for our lawn it was really patchy with spots that didn't even have any grass, just dirt. The other company could hardly even get the grass to grow! You started working on our lawn this spring and already it looks lush and thick. Wow, what a difference! We love our lawn now and we know it's safe for our grandchildren to play on."
- Lorraine & Andrew P.
"Thanks Todd, I loved the natural smell. Actually a treat from all the chemicals in the neighborhood"
- Kay
"I wanted to update our results with the Natura Bulb 2-step system that we tested on our spring bulb plantings. Seventy thousand bulbs were treated, 85% of them tulips. Normally in early spring when the tulips 'pop' out of the ground we have a terrible time trying to keep the deer away from this food source. We applied one Mycrotab 5-5-5 bulb tablet with the fall planting, and then sprayed the newly growing tulip in early Spring. The deer not only stopped browsing the tulips, but moved away from all the sprayed areas. We had less than 5% overall damage to the tulips. The most amazing part was that by using the Bulb 2-step, we also reduced non-germinating tulip bulb loss, to almost zero, and we only only had to apply the spray once all season! Thank-you for thinking outside the box and making a great product even better."
- Cullen Gardens & Minature Village Plants, Whitby, Ontario
Latest News
Starting the winter applications soon.
Just finishing up our fall application of micro-organisms and fertilizer. Will be starting the final applications of the year, including calcium, aeration, and over seeding starting in late September. if you haven't already signed up for aeration please do so soon.
Compost tea will be available this weekend (8/29 to 8/31) for the final weekend of the year. its available at the shop and is self serve. Bring a bucket or buy one of mine which will be onsite.
We'l…Read More
Self Serve Compost Tea Available On Weekends!!
Compost tea will be available starting in early May. The self serve system will be available at our shop every Friday and will be available throughout the weekend. Cost is $15 per 2.5 gallon jug (price includes compost tea, jug and extra food pack). Cost to refill or if you bring your own jug is $4 per gallon. For more details on BYOtea please refer to the "Products" tap then the "BYOtea" tab on our site.
A cash box will be onsite for payments (Cash or check only) a…Read More
Latest Article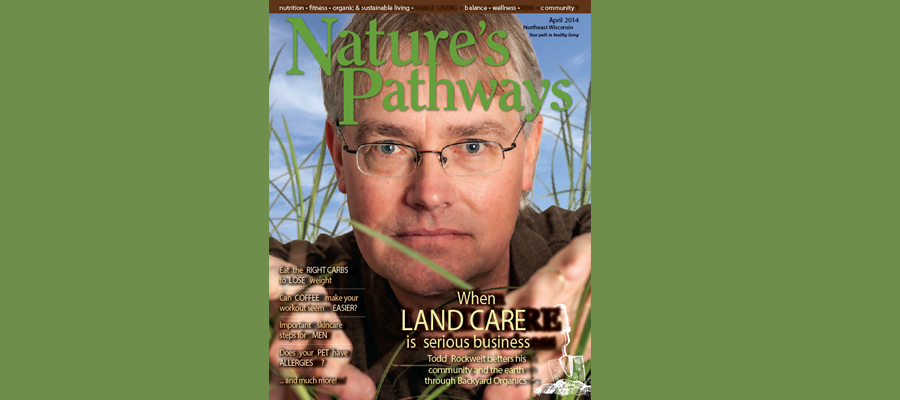 Nature's Pathways Cover Article - April 2014
Building a purposeful life from the ground up Todd Rockweit betters his community and the earth through Backyard Organics In all things of nature there is something of the marvelous. —Aristotle As they shine between the leaves of a nearby maple tree, the sun's rays gently warm your skin.
The smell of flowering lilacs drifts upon a light breeze. Soft, plush grass cradles your bare feet as you close your eyes and listen to the birds singing from the nearby shrubs a…Read More
Welcome
In 2004, Backyard Organics was born out of one couple's desire to have a safer, healthier lawn for their family and pets. We have since grown to have a better understanding of the complexities of natural ecology and soil biology and how that relates to a healthy lifestyle. We are dedicated to providing you and your family a beautiful lawn using all natural, organic products that are proven safe and effective.
Backyard Organics was the first all organic lawn care service in Northeast Wisconsin and we are your exclusive source for a variety of all natural, organic products. We are also the first Wisconsin Organic Land Care business accredited by NOFA, one of two organizations in the country that accredit Organic Land Care Professionals (AOLCPs).
We are committed to understanding the science behind soil biology and matching that with the needs of our client. If you're tired of waiting to enjoy your backyard, why not make the decision to go chemical-free today!