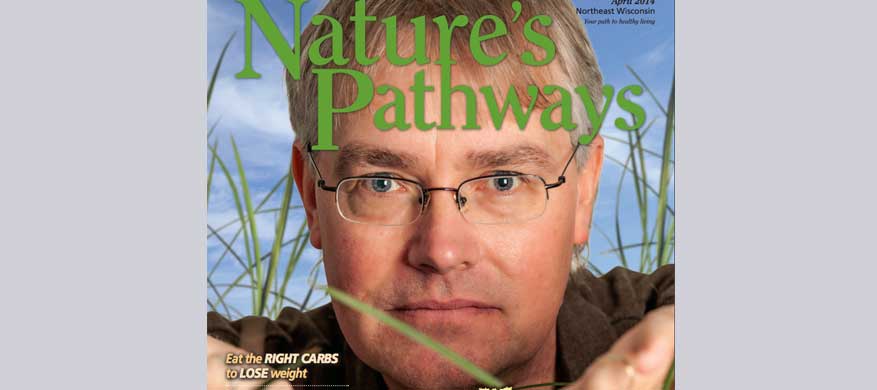 Building a purposeful life from the ground up
Todd Rockweit betters his community and the earth through Backyard Organics
In all things of nature there is something of the marvelous. —Aristotle
As they shine between the leaves of a nearby maple tree, the sun's rays gently warm your skin. The smell of flowering lilacs drifts upon a light breeze. Soft, plush grass cradles your bare feet as you close your eyes and listen to the birds singing from the nearby shrubs and trees.
It's a perfect, serene, picturesque backyard. But what makes it all the more beautiful is it was made that way by a man who takes doing right by the environment, his community, his clients and his family to heart.
Todd Rockweit provides organic and sustainable land and lawn care to Northeast Wisconsin through his business, Backyard Organics. The Oshkosh-based Backyard Organics is much more than a typical landscaping company. It serves residential customers, as well as businesses, gardens, orchards, farms and even small vineyards — and it does so by recognizing the flaws in conventional and often harmful chemical-based methods, and instead using an educated and individualized approach to each client's needs.
Rockweit is easily able to relate to his customers' needs — perhaps because he himself was one just a few years ago. He and his wife, Tara, both nature lovers to begin with, knew they wanted not only an attractive and inviting yard, but a safe environment. Their main motivation for this came in a tiny, adorable package: their new daughter, Emmaxia.
The Rockweits looked into the services Backyard Organics offered and Todd found himself gravitating to the company's sustainable, continuous-improvement process. Thanks to this organic and thoughtful approach to their own lawn care, the Rockweits now have peace of mind knowing that their daughter, dogs and even chickens can explore their backyard without encountering harmful chemicals.
A man is a bundle of relations, a knot of roots, whose flower and fruitage is the world. —Ralph Waldo Emerson
Five years ago, Rockweit had just sold his custom software distribution company. At age 43, he wasn't in a position to retire, yet he was comfortable enough to choose what he wanted to do next in life. He and his wife sat down with a whiteboard in their living room and outlined a roadmap for the future. Not surprisingly, family played a major role in the Rockweits' decision to purchase and operate Backyard Organics.
"Until you actually have one, you don't know. It's unreal how much they can change your life," Rockweit says of having children. Todd and Tara had a bit of a preview through watching friends and family parent before their own daughter entered the picture. "We saw the good and bad," Todd recalls. "We knew that if we didn't take best approach to raising our child that we could, that wouldn't be right. We wanted a better balance personally and professionally."
Backyard Organics certainly seemed to fit the bill. Tara, a local high school teacher, has more free time to spend with Emmaxia in the summer months than during the school year. The opposite, seasonal nature of lawn care would allow Todd to compliment Tara's schedule.
"It's a good fit," Todd says. "It helps us to always be with our daughter whenever we can."
What you get by achieving your goals is not as important as what you become by achieving your goals. —Henry David Thoreau
Another item at the top of Rockweit's whiteboard list for the future was his goal to enjoy a more meaningful existence.
In the past, Rockweit tried to be as good of a person as possible, though this wasn't the driving force in his professional life. He focused mainly on making money to support his family as best he could.
But Rockweit was able to shift his priorities, and he recognized that Backyard Organics would allow him to feed his soul, rather than just the bank account. Now, as owner and operator of the company, Todd recognizes that doing the right thing is part of who he is.
"The driving force behind this business or really anything that I do is to be more purposeful," he explains. "Every time I make a decision, I ask, 'Is it the right thing to do? Is it the best product I can utilize? Is it the best service I can provide?' This can be difficult if the majority of your professional life was more profit-driven. It can be difficult, but it is absolutely the driving force behind this business."
Rockweit's focus on living a purposeful life has lead him and Backyard Organics to deep community involvement. Through participation in local committees and organizations, such as Habitat for Humanity, Rockweit is able to help individuals and groups better understand the environment.
"To me, what's most important is groundwater understanding," he explains. "Water is a limited resource, and we really need to do whatever we can to preserve it." Rockweit hopes that by connecting with community organizations, he will be able to help people build their understanding of how land-care decisions can impact the watershed, as well as the environment as a whole. This will lead individuals and businesses to consider alternatives to synthetic land-care chemicals, Rockweit hopes.
Come forth into the light of things, let nature be your teacher. —William Wordsworth
Since taking on Backyard Organics, Rockweit has done more than his fair share of research. Thanks in part to his prior career in engineering, he takes a "left-brained" approach to lawn and land care. The business owner finds himself naturally craving to understand "how things work," to identify root causes of problems and to search out the best solutions — strengths he uses to his customers' advantage.
"In this industry, a passion for understanding how soils work is very unique. Landscapers in general don't spend a great deal of time understanding soil. Instead, they use products to make grass 'look' greener," Rockweit explains.
Rockweit, on the other hand, has been truly immersed in soil science for the past five years. A regular attendee at organic farm and land-care classes and conferences, he takes time each off-season to further educate himself. Rockweit has primarily attended educational opportunities on the east coast, where the Northeast Organic Farming Association, or NOFA, regulates organic land care.
While the east and west coasts have organizations like NOFA that set standards and guidelines related to organic land care, the Midwest does not. Rockweit explains that because of this lack of oversight, a Midwest company could say they are using organic products and approaches, but there is no way to verify this.
Backyard Organics is different. As a NOFA-accredited land care professional, Rockweit has the credentials and knowledge to back up his words. And Backyard Organics, with its purely organic approach to land care, is unique not only in Wisconsin, but the entire Midwest.
Backyard Organics customers know what they're getting: Todd Rockweit — a man who believes in doing the best thing for his family, his customers, his community and his planet.
Each Backyard Organics customer benefits the environment. By contacting Todd Rockweit, clients can rest assured knowing that they are making the world a better and more purposeful place. Contact Backyard Organics at 920-730-3253 or email [email protected] To learn more, visit backyardorganics.net or stop by the shop at 5171 Green Valley Road, Oshkosh.]
Backyard Organics is actively involved in the following programs and committees:
Sustainable Neenah
Sustainable Fox Valley
Gardens of the Fox Cities
Master Gardeners of the Fox Valley
Community Gardens of the Fox Valley and Oshkosh
Habitat for Humanity
Fox Valley Adopt a Garden
Neenah Historical Society