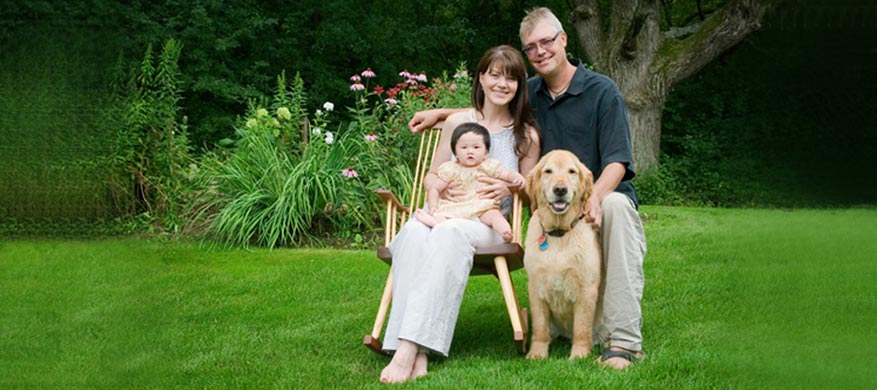 First, I would like to thank each of you for showing your dedication to your family and the environment by providing a safe alternative to chemical lawn care. It's a rare opportunity to be a part of a purposeful career and after careers as an engineer, manufacturing consultant and a owner of an distribution company, I believe I have found a purpose in Backyard Organics and I appreciate the opportunity to share that with you.
Spring was an interesting season. Learning a new business and dealing with the weather were challenging, but I'm very pleased about our progress and grateful for the on-going support of dedicated professionals. Additionally, I'd like to thank you for your patience as we worked through the growing pains of new ownership.
March and April were spent applying the important early spring application. The corn gluten used in this application can take some time to work into the soil, which allowed some of our pets to consider it a treat unfortunately. This lead to a search and discovery of an alternative to this challenge. If your pets are eating the corn gluten and you would like an alternative we will apply a powder form that can be watered into the soil more quickly.
Our first wet applications started in late May, and we finished our first summer application the last week in June. Our Summer 2 application will start in Mid August. As usual, we will notify you with specific dates as we approach mid August. Early fall and winter application will follow up in late October or early November, depending on the weather.
We are excited to share our new partnerships with you. Backyard Organics has established some partnerships that we are excited to be apart of and let you know about. Because of my past experience with Habitat for Humanity and our commitment to give back to our community, Backyard Organics has donated its products and services to all new homes built in the valley by Habitat for Humanity. Vande Hey Landscaping has partnered with us on this venture to further enrich these new lawns.
Additional exciting relationships are the ones that we established with some of our local retailers. You can now find our products at Festival Foods (New London), The Free Market, Vande Hey Landscapes, Just Act Natural, Two Paws Up Bakery (Appleton), The Red Radish (Neenah), Natural Healthy Concepts (Menasha), and Schmalz Garden Center (Darboy). Please visit these local retailers; buying local benefits our community significantly.
We are also very excited to further our relationship with the Fox Valley Technical College's organic land care leadership. We recently met with them to discuss how we can help each other in our quest to establish an organic presence in local land care. Backyard Organics and FVTC are promoting the same techniques and philosophies regarding organic land care and are two of three organizations in Wisconsin accredited by NOFA. We will certainly share more about this collaboration in future news letters.
Once again, thank you for your dedication to our service and organic land care. We look forward to a long and healthy relationship.
Todd